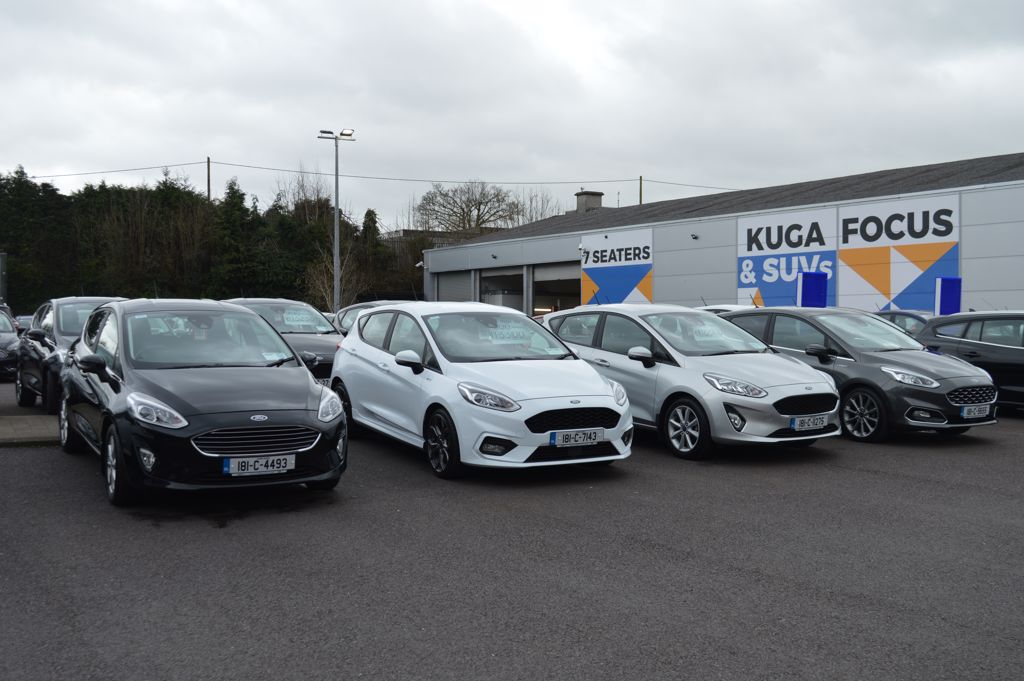 2018 Fiestas in Stock - Great Value!
Large Selection Now Onsite
Since the start of the year we have a large amount of 2018 Fiestas traded in against new 211 models gone out to happy customers since January.
We have Zetec, Titanium, ST-Line and Active models on site and ready to be sold.
See below the current selection we have in the yard and some images of what's on display!
| | | | | | |
| --- | --- | --- | --- | --- | --- |
| REGISTRATION | MODEL | PRICE | | COLOUR | MILEAGE (KM) |
| 181C1994 | FIESTA 1.1 TITANIUM 5DR | €15,650 | | FROZEN WHITE | 23,544 |
| 181C1939 | FIESTA 1.1 TITANIUM 5DR | €14,950 | | RACE RED | 33,000 |
| 181C2577 | FIESTA 1.1 TITANIUM 5DR | €15,400 | | RUBY RED | 35,000 |
| 181C3016 | FIESTA 1.1 TITANIUM 5DR | €15,750 | | MOONDUST SILVER | 15,312 |
| 181C3370 | FIESTA 1.1 TITANIUM 5DR | €15,750 | | DEEP IMPACT BLUE | 27,000 |
| 181C4247 | FIESTA 1.1 TITANIUM 5DR | €15,250 | | MAGNETIC | 36,570 |
| 181C4493 | FIESTA 1.1 TITANIUM 5DR | €14,750 | | ABSOLUTE BLACK | 67,000 |
| 181C4628 | FIESTA 1.1 TITANIUM 5DR | €15,500 | | ABSOLUTE BLACK | 28,947 |
| 181C4880 | FIESTA 1.1 TITANIUM 5DR | €15,250 | | DEEP IMPACT BLUE | 32,000 |
| 181C4855 | FIESTA 1.1 TITANIUM 5DR | €15,250 | | MAGNETIC | 34,108 |
| 181C5112 | FIESTA 1.1 ZETEC 5DR 70P | €15,500 | | MAGNETIC | 12,000 |
| 181C7015 | FIESTA 1.1 TITANIUM 5DR | €15,250 | | ABSOLUTE BLACK | 42,417 |
| 181C7143 | FIESTA 1.1 STLINE 5DR 85 | €15,500 | | FROZEN WHITE | 30,000 |
| 181C8165 | FIESTA 1.1 ZETEC 5DR 70P | €15,000 | | ABSOLUTE BLACK | 18,000 |
| 181C9655 | FIESTA 1.0 ECO VIGNALE 5 | €17,250 | | MAGNETIC | 80,883 |
| 181W2230 | FIESTA 1.1 STLINE 5DR 85 | €15,995 | | RACE RED | 31,000 |
| 181C10410 | FIESTA 1.1 TITANIUM 5DR | €15,250 | | FROZEN WHITE | 18,984 |
| 181C11275 | FIESTA 1.1 ZETEC 5DR 70P | €15,500 | | MOONDUST SILVER | 23,484 |
| CV18ZMO | FIESTA 1.1 ZETEC 5DR 85P | €15,250 | | GREY | 40,020 |
| 182D10719 | FIESTA 1.1 TITANIUM 5DR | €14,950 | | MOONDUST SILVER | 50,865 |
| 182C2795 | FIESTA 1.1 ZETEC 5DR 70P | €15,250 | | ABSOLUTE BLACK | 25,000 |
Dealer News