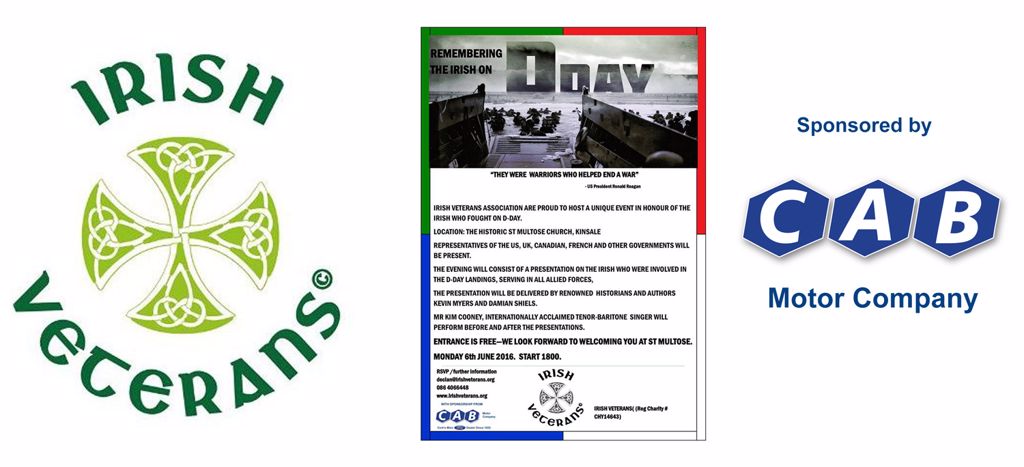 CAB Sponsors Irish Veterans
CAB Motor Company is very pleased to be associated with the Irish Veterans Charity and are delighted to support this very worthy charity.
It is always important to remember those who dedicated their lives to serve their country and the sacrifices they made.
Ireland has a strong tradition of peacekeepers and the men and women who serve should be respected and remembered for their service.

About Irish Veterans
A young charity. All of our staff are completely voluntary at this point, but in order to grow we need to change that.
Our members include veterans of Vietnam, the Gulf War, Iraq, Afghanistan and many other conflicts. Most of our members live in the US, and are Irish-American. Some are still fighting in Afghanistan.
We count a highly diverse group of veterans within our group, such as serving Navy SEALS, retired 3-star generals, US Senators, bestselling authors and Medal of Honor recipients amongst many others.
Our mission is to
Remember and recognise all Irish men and women (including those of Irish heritage) who have served in the Armed Forces of their country.
Build and run a memorial, heritage centre and museum dedicated to Irish Veterans (to be located in Cork) in order to tell their stories, educate people on their sacrifices, grow tourism and create employment.
Support, connect and act as a gathering-point for all veterans of Irish heritage, be they US, UK, Canadian, Australian, etc...we are a global association and we want to use these stories to attract tourism, grow awareness and to seek FDI into the Cork region.
Last April we dedicated our first Chapter to the memory of US Navy SEAL LT Michael Murphy, Medal of Honor, who was killed in action in Afghanistan. The movie "Lone Survivor" starring Mark Wahlberg and Taylor Kitsch tells the story of his last mission. Murphys' mother, Maureen, is from just outside of Mallow and his Father's people are from Cork.

For more information see: www.irishveterans.org
Dealer News