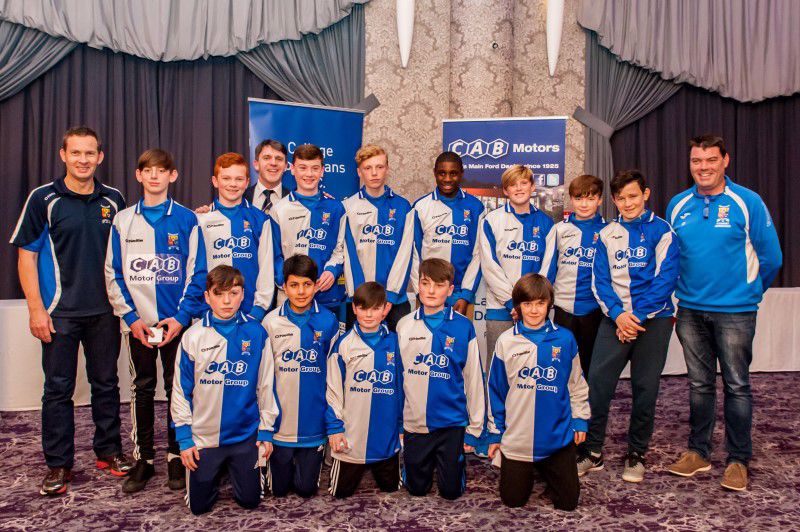 CAB Motor Group is pleased to continue our support of College Corinthians Afc.
At the annual awards this week, John Wilkins from CAB was on hand to present prizes on the night.
Special guests included Kieran Donaghy (Kerry Footballer) & Chiedozie Ogbene from Cork City FC - great role models to club members.
CAB Motors is proud of our role as main sponsor. Our association with Corinthians is probably close to 20 years, through John Wilkins (C.A.B General Manager/Director) involvement with our Club. John has been player, coach and manager at the club over the years.
College Corinthians AFC is currently one of the most successful and progressive soccer clubs in Munster. Initially set up to provide a club for U.C.C. graduates, Corinthians has expanded rapidly over the years and now caters for seven adult teams as well as over five hundred schoolboys. Based in the Castletreasure area of Douglas, Corinthians aim is to foster soccer in the Cork area by providing quality facilities and encouraging more people to play football……
Brief History
College Corinthians AFC was founded by graduates of U.C.C. in 1971. Having played football for U.C.C. AFC during their University years, players wished to maintain their involvement in football and initially a social team was formed. However based on interest shown, it was decided to apply for membership of the Munster Senior League. The application was accepted and in August 1971.
College Corinthians played its first competitive match in the Munster Senior League against Wembley and has been a constant member of the league ever since. The team was managed by Tom O'Leary and with the kind permission of U.C.C., home games were played in the grounds of University College Cork at the Farm Sports Grounds, Curraheen Road, Cork.
Dealer News